Bach Flower Remedies

Your dog's training will be enhanced by including a Bach Flower remedy. This comes in a small bottle inluding water and essences from various flowers.

WHAT ARE BACH FLOWER REMEDIES?

The Bach Flower essences were the inspiration of Dr Edward Bach who was a successful Harley Street practioner in London in the 1930's. Dr Bach discovered that an imbalance of the emotions could lead to behaviour problems. The flower essences work on balancing the emotions which helps towards behaviour modification.

With the flowers being so gentle in the body, there is no know negative side effects to these essences, but the benefits and successes are renown.

I have been using Bach Flower essences on my own animals and on myself for a good many years and have found them to be a significant tool in successful behaviour modification. I make up each remedy tailored to each dog's individual case and personality, to achieve the best results.


You can purchase a Bach Flower remedy, either with or without a Behaviour Modification Program. Either way, I will ask you to complete a questionnair to enable me to make up the remedy according to your dog's own needs. The fee for the remedy is twenty five dollars (within Australia) and thirty five (Australian) dollars outside Australia.

Combinaiton of a Behaviour Modification Training program plus Bach Flower essences is significantly effective.


Please make out cheques or Post Office Money Orders to 'Velma Violet Harris'. For international orders, please send an International Post Office Money Order for thirty five Australian dollars.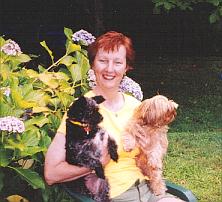 What Is A Training and Behaviour Modification Program?

As a behaviouralist, I look at the dog's entire makeup. I take everything about the dog into consideration.
Such as the:
.genetic disposition
.learned behaviour
.emotions and personality
.environment
.diet
.lifestyle of the owner
.interaction with other pets and people
.usual amount and type of exercise

I take all aspects of the dog and the dog's owner into consideration so that the program I write will be compatible to the owner and the dog.

This is unlike basic training or obedience where standard methods are used and individuality of the dog and the owner are not taken into consideration.

The combination of a behaviour modification training program plus Bach Flower essemces, is most effective.